In this Autumn's filmmaking classes, we're exploring legendary filmmakers to seek out inspiration, techniques, influence and know-how for our student's latest film productions.
What makes a legendary filmmaker?
We've put together a list of seven legendary filmmakers we think every young filmmaker should know.
This isn't another list of auteurs, though we've included one or two that likely feature on those lists. This is a collection of legendary filmmakers who have made an impact, with bold, brave work, signature styles and an appetite for taking creative risks.
It's also worth noting who we've excluded. As a filmmaking school for children and young people, we haven't included many celebrated filmmakers who produce work mostly in the 18+ (UK) classification, even though they might rightfully be legendary filmmakers outside of our list here.
We've also narrowed it down to seven legendary filmmakers, each of whom offers something different in the way of inspiration, style, repertoire and perspective.
Some of them you'll already know, but there could be a few new names to grow familiar with too. One thing they all have in common is that they've broken boundaries, expressed their distinct point of view and forged pioneering pathways in film.
1. Steven Spielberg
One of the most celebrated and commercially successful directors and producers of all time, Steven Spielberg is a legendary filmmaker who makes almost every filmmakers list. His breadth of appeal, along with his family friendly narratives, relatable themes and sense of adventure mean his films have each drawn their own passionate fan base, some of which have endured for decades.
Spielberg places storytelling at the heart of all his films, treating special fx and tricks as subservient to the story and to the characters, and says this is why his films are so popular and well loved by audiences.
"Through careful manipulation and good storytelling, you can get everybody to clap at the same time, to hopefully laugh at the same time, and to be afraid at the same time. But you can't get everybody to interpret the result in the same Way. And that's thrilling to know – that everybody will see it differently."
Steven Spielberg
His love for story, whether heartwarming or heart-stopping, is just one element of his signature style. Spielberg films showcase relatable characters, "ordinary people in extraordinary circumstances", and themes of family, role models and childhood. He often explores innocence, and gives us an innocent point of view throughout his work. He also tries to "soften the edges of reality", choosing to use circular frames repeatedly as a visual motif.
With a body of work that includes some of the most successful films of all time, as well as some that have spawned huge franchises and their own amusement parks, there is no doubt that Steven Spielberg deserves a place on our list of legendary filmmakers.
Films include:
Jaws
E.T.
Jurassic Park
Schindler's List
The BFG
West Side Story
2. Ang Lee
Second on our list of legendary filmmakers is Ang Lee, a director made famous through his critical acclaim and ability to balance a range of filmmaking influences, both traditional and contemporary. He's won the Academy Award for Best Director twice, for his films Brokeback Mountain and Life of Pi.
Through his films, you can see how he explores lots of different and universal themes, but manages to bring out unspoken conflict and repressed emotions to deliver compelling, sensitive and emotional films set in some of the most surprising situations.
"Sometimes films ignore other points of view, because it's simpler to tell the story that way, but the more genuine and sympathetic you are to the different points of view and situations, the more real the story is."
Ang Lee
His ability to bring out emotional storytelling, through a range of genres, settings and cultures, make his style distinctive and yet adaptable, leading to a diverse body of work we can't ignore for our list of legendary filmmakers.
Films include:
The Wedding Banquet
Sense and Sensibility
Crouching Tiger, Hidden Dragon
Brokeback Mountain
Life of Pi
3. Agnieska Holland
Known initially for political filmmaking in Poland, and later for a Hollywood career including TV's The Wire, Agnieska Holland is one of our legendary filmmakers. She's committed to a raw style of realism that share with viewers moral complexity, flawed characters, and often harrowing presentations of true-to-life and allegorical events.
In the 1980's she was forced into exile by the communist rulings in Poland, due to the political nature of her work, she continued to make films from France and Western Europe, including the Academy Award nominated Angry Harvest. Later in her career, she turned to Hollywood and began to make films from America too. 
Each of Agnieska Holland's films has its own look and feel, but across her whole filmography, they share a rebellious spirit, where the protagonist (and by extension Holland herself) refuses to accept the world as it is. Agnieska Holland describes her own films as focusing on "regular people caught in the machinations of history and desperately trying to trick it." There is an agency to her films. She describes a desire to remind people of the crimes and atrocities committed in recent history, and to bring to them, through realism and lived experience, lessons to help change the future.
Films include:
Angry Harvest
The Secret Garden
Mr Jones
Charlatan
Spoor
4. Alfred Hitchcock
One of the most influential filmmakers of all time, Hitchcock's legacy has informed the notion of modern filmmaking and is still with us today. Earning the title "Master of Suspense", Hitchcock pioneered techniques to bring an audience inside the story and, during a time when films were often much like theatre shows captured on film, he revolutionised what it was to tell a story using a camera. He explored perspective and point of view, and introduced new ways of working with the camera that have now become a staple of feature films and filmmaking.
"In many of the films now being made, there is very little cinema: they are mostly what I call 'photographs of people talking.' When we tell a story in cinema we should resort to dialogue only when it's impossible to do otherwise. I always try to tell a story in the cinematic way, through a succession of shots and bits of film in between."
Alfred Hitchcock
Working mostly in the crime genre, he directed some of the most famous thrillers of his age, most of which have also stood the test of time and appear on list upon list of the Best Films Ever Made, so we can't ignore him for our collection of Legendary Filmmakers.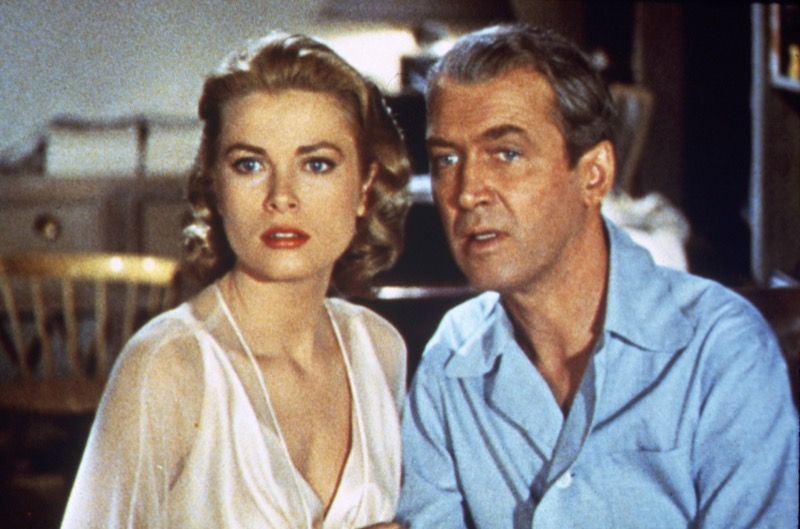 Films include:
Rear Window
North By Northwest
Psycho
Dial M for Murder
The 39 Steps
5. Lynne Ramsay
The next of our legendary filmmakers is a contemporary filmmaker known for her vivid, atmospheric style. Lynne Ramsay's work embodies striking visuals and powerful sound. She tends to favour minimal dialogue and instead relies on strong, sensory elements to powerfully tell her story on screen.
"When I go to the cinema, I want to have a cinematic experience. Some people ignore the sound and you end up seeing something you might see on television and it doesn't explore the form. Sound is the other picture. When you show people a rough cut without the sound mix they are often really surprised. Sound creates a completely new world. With dialogue, people say a lot of things they don't mean. I like dialogue when it's used in a way when the body language says the complete opposite. But I love great dialogue I think expositional dialogue is quite crass and not like real life."
Lynne Ramsay
Across her body of work, which includes shorts and feature films, as well as self-written projects, you'll find themes of childhood, as well as loss, grief and the idea of rebirth or new beginnings, with these themes often played out in the structure of the story. We Need to Talk About Kevin uses a fragmented, non-linear narrative structure to great effect.
For her atmospheric style and bold, sensory approach to storytelling, we're delighted to include her on our list of legendary filmmakers.
Films include:
Ratcatcher
Gasman
We Need to Talk About Kevin
6. Chinonye Chukwu
A relative newcomer to feature films, the next of our legendary filmmakers is Chinonye Chukwu, who has experienced recent success with her films Clemency and Till. Clemency provided a breakthrough moment for the director when it won the Grand Jury Prize at Sundance in 2019.
Clemency, along with lots of Chinonye Chukwu's work, explores themes of duality and identity, in a way that prompts audiences to engage with complex characters and expresses a unique point of view.
"When I started to detach from ego and embrace the unwavering belief that I am enough, I started making films for myself and embracing the craft of filmmaking again. Consequently, my work got so much better."
Chinonye Chukwu
As well as making highly interesting, original and thought-provoking films, Chinonye Chukwu is also blazing a trail for filmmakers who are often underrepresented within the film industry.
Films include:
Clemency
Till
A Long Walk
The Dance Lesson
7. George Lucas/Ron Howard/Industrial Light & Magic
With one of the most successful film franchises to his name, many would argue that George Lucas is potentially the screen legend. Director Ron Howard also has a long list of impressive director credits, and ILM have provided spectacular effects to huge film titles for many years too. However we're including them here in our list of legendary filmmakers for one specific reason: Willow (1988).
This isn't to say that they aren't legendary filmmakers for many reasons, but in this term's filmmaking classes, we're specifically looking at the morph technique – a special effect technique first used in Willow that's been used time and time and time again as a way to show a character transform visually.
The morph technique born in Willow showed for the first time on screen, characters transform on screen without the need for a cut or a transition – the effect happened live before the audience's eyes.
"We were kicking things around and I said, "Well, instead of doing it as a model, what if you just did it as images?" I thought this would work because the computer knows where all the pixels are. They know the pixels that are making up each image. So the idea was, what if you changed from one image to the next, rather than the computer graphic representation of the animals? …
They came back with this program that was our MORF system, which basically takes a grid and lays it over imagery and then just shifts the pixels around, so that all of the transformation really happens in a 2D space with no computer models. That was a big breakthrough, technologically."
Dave Carson, Industrial Light & Magic
With visual effects (VFX) and special effects (SFX) evolving and playing an increasing role in film production, the makers of the digital morph effect have been incredibly influential and deserve a spot on our legendary filmmakers list.
Films include:
Star Wars – George Lucas
Apollo 13 – Ron Howard
Iron Man – ILM
Jurassic World – ILM
So that wraps up our list of legendary filmmakers – for this term at least!
Over 10 weeks, Sparks film students will explore different themes, techniques and inspirations from our legendary filmmakers and apply their learning to their own film productions. In film classes, we'll explore the different work and the influence of these legendary filmmakers, with students testing out their different techniques in order to develop their knowledge and skills, as well as to inspire their own work.
Every term, filmmaking classes take on a brand new theme. 'Screen Legends: Legendary Filmmakers' will run from September – December, followed by a brand new theme to progress learning from January.
If you'd like to know more about our film classes, then take a look here.
You might also like: